In a twitter post earlier today, Coinbase CEO Brian Armstrong cast doubt on whether Russian oligarchs would actually use crypto, saying that the open, and transparent nature of digital ledgers made it highly unlikely that they would choose this option.
Armstrong has been prominent in news related to the Russian invasion of Ukraine, and has upset some people in various circles, given that he will not sanction Russian citizens using his platform, unless required to do so by law.
Changpeng Zhao, CEO of Binance, and Jesse Powell, CEO of Kraken, are of a similar mind, and both initially said that they would not blanket ban all Russian citizens, saying that it was unfair to do so. However, both exchanges have complied with requests to freeze the accounts of certain named Russian individuals.
Armstrong went to Twitter earlier today, in order to tweet a thread on the ongoing discussion on crypto being used to avoid sanctions.

He started by saying that all US companies needed to comply with sanctions laws, and that Coinbase would certainly follow guidelines, blocking the IP addresses of any customers who were on global watchlists.
However, about halfway through the thread Armstrong gave his view that crypto really wasn't the best tool for hiding money from sanctions, given the open nature of blockchain. He suggested that art, gold, dollars, or other assets would be far better.

He also tweeted out the opinion of National Security Council's director of cybersecurity Carole House who said: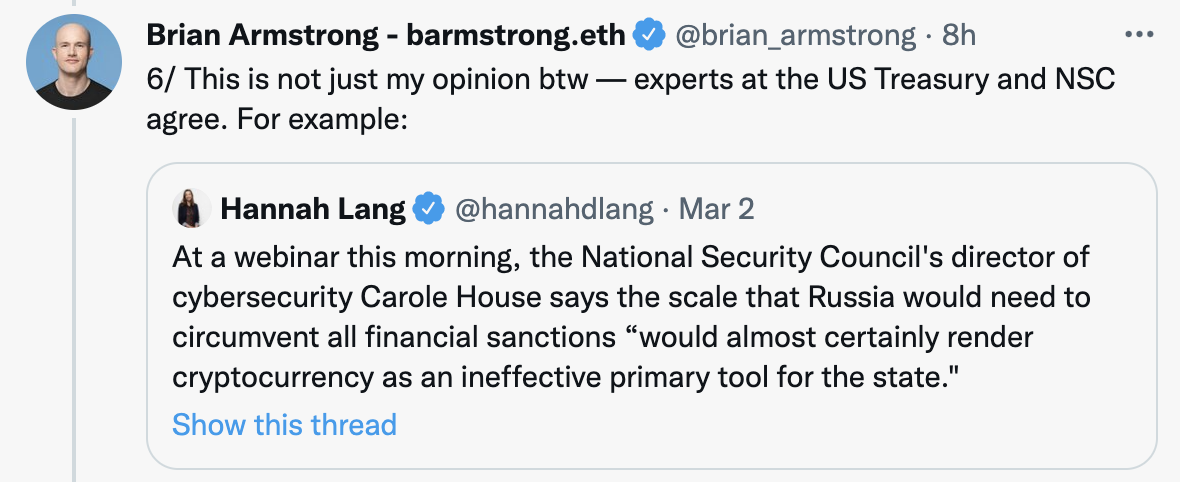 In spite of this, Senator Elizabeth Warren, and others, wrote a letter to treasury secretary Janet Yellen, asking her to ensure the cryptocurrency industry complies, writing:
Meanwhile, Jesse Powell, CEO of Kraken, gave completely the other side of the argument by stating:
Source:cryptodaily.co.uk.com