Synthetix's native token SNX has risen following an announcement of the protocol's imminent Layer 2 launch. SNX is currently looking to establish bullish support.
Synthetix Network's native token SNX jumped 25% following an announcement that it would launch on Ethereum Layer 2 solution Optimism in the last week of July.
Synthetix Rises on Optimism Announcement
Kain Warwick, the founder of Synthetix, announced that the platform would launch on Ethereum's Layer-2 Optimistic Rollup, Optimism, on the week commencing Jul. 26 last week. The update acted as a positive catalyst for SNX, which has surged to a monthly high of $13.60.
The Layer 2 update will enable faster execution of derivatives contracts for the platform. Optimism's Ethereum Rollup has been anticipated for some time. It was previously scheduled to go live in March of this year. Other DeFi staples like Uniswap are also set to launch on the Optimistic Rollup once it's live. 
The initial Optimism integration will begin with sETH, sBTC, and sLINK Synths on the platform. "Synths" are synthetic assets created on Synthetix; users can stake SNX to mint sUSD then trade it for other Synths. As with Synthetix on Ethereum mainnet, the price feed will be deployed by Chainlink.
The token has surged 150% from its bottom at $8.20 on Jun. 26. The consistent growth in its price also echoes in the platform's total liquidity and userbase.
According to data from DeFi Pulse, the total locked value (TVL) on the platform dropped to lows to $600 million on Jun. 24. The liquidity has since increased by over 1.5 times to $1.47 billion, staying above last year's peak during the DeFi summer. Moreover, Synthetix's rise in total value locked does not match with the wider DeFi sector, which rose by only 14.5% over the same timeframe.
The number of users on the platform has also risen steadily since the explosion of the DeFi market last summer and remained unaffected despite the correction in the broader crypto markets.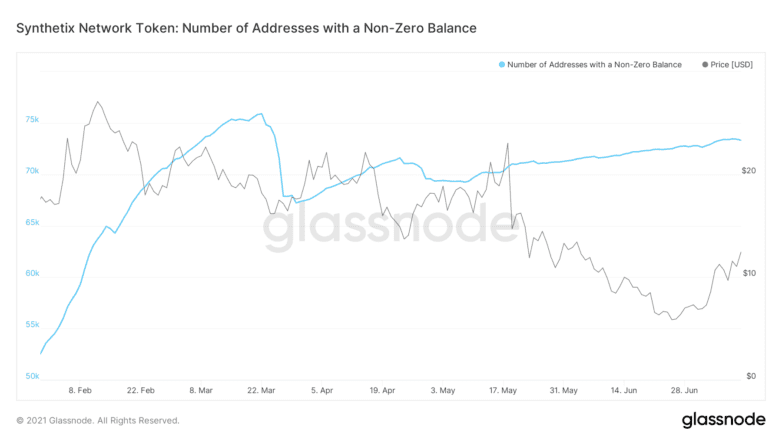 The funding for SNX is negative—around negative 0.1% daily—which shows that the majority of traders are currently short SNX, hoping to profit from a correction. However, such conditions are perfect for market makers and whales to push prices higher and force the bears to liquidate their position.
From a technical perspective, the platform has been looking at a bullish breakout towards the mid and top of the ascending channel since August 2020. The targets for SNX if it manages to turn resistance to support for the bottom of the channel are $18.50 and $28.10.
The short-term support levels for the bullish move, meanwhile, are at $10.50 and last year's peak of $7.50. SNX was last trading at $12.80, which puts the protocol's market cap just over $2 billion.
Source: cryptobriefing.com